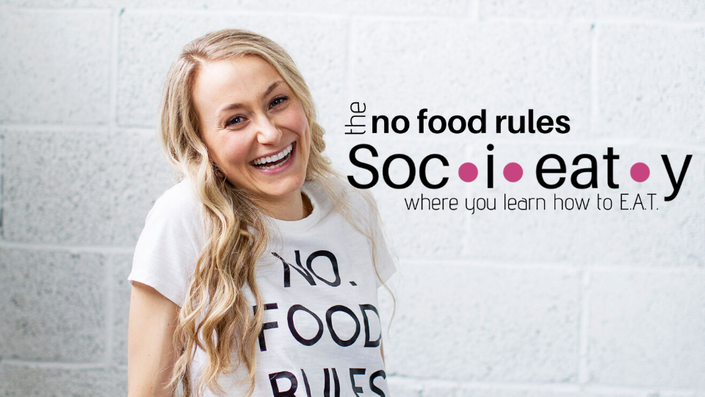 The SociEATy
Are you sick of:
Feeling out of control

around food

Following restrictive diets and

"failing"

Obsessing

over calories/points/macros
Always

being at war

with your body
How would it feel to:
Just freaking

eat NORMALLY

Eat when you're hungry &

stop when you're satisfied

Eat a cupcake

without "losing control"

Finally

make peace

with your body
Amazing, right?! You're in the right place, gorgeous!

The SociEATy is an exclusive membership community that guides you to total food and body freedom that FEELS good- mentally AND physically.

No more guessing or shooting in the dark when it comes to eating intuitively.
There is now got a prove system that works.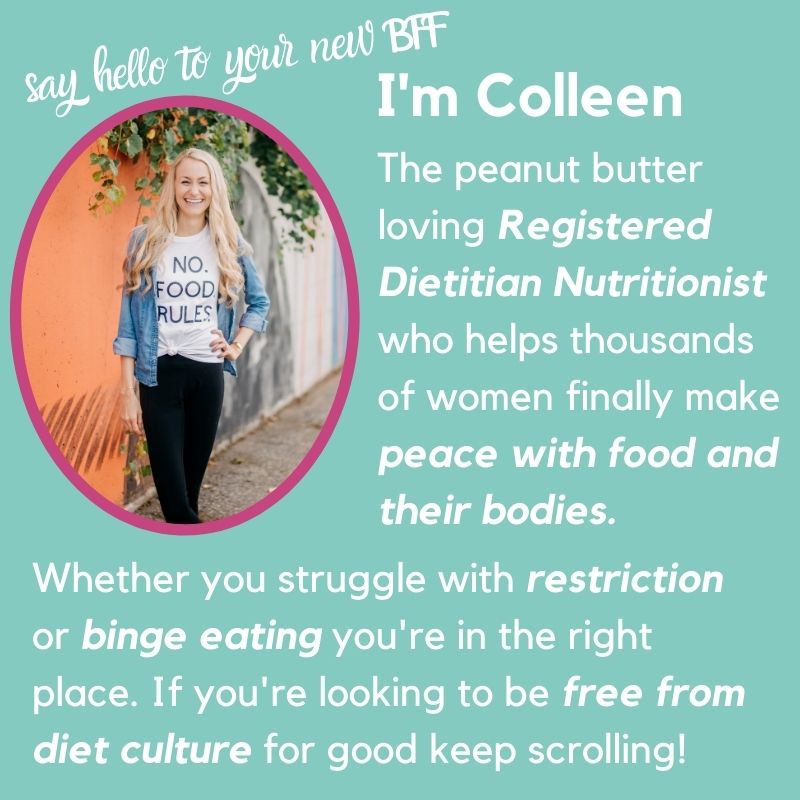 So... How can I help YOU?!
I've been through it all... restrictive eating AND binge eating. Overcoming it wasn't easy but along the way I figured out what works and what doesn't.

I was a lost puppy... but now I'm a puppy with a roadmap and I'm about to hand it over to you.

Not only will I give you step-by-step guidance I'll give you a 24/7 support system, too! Something I didn't have.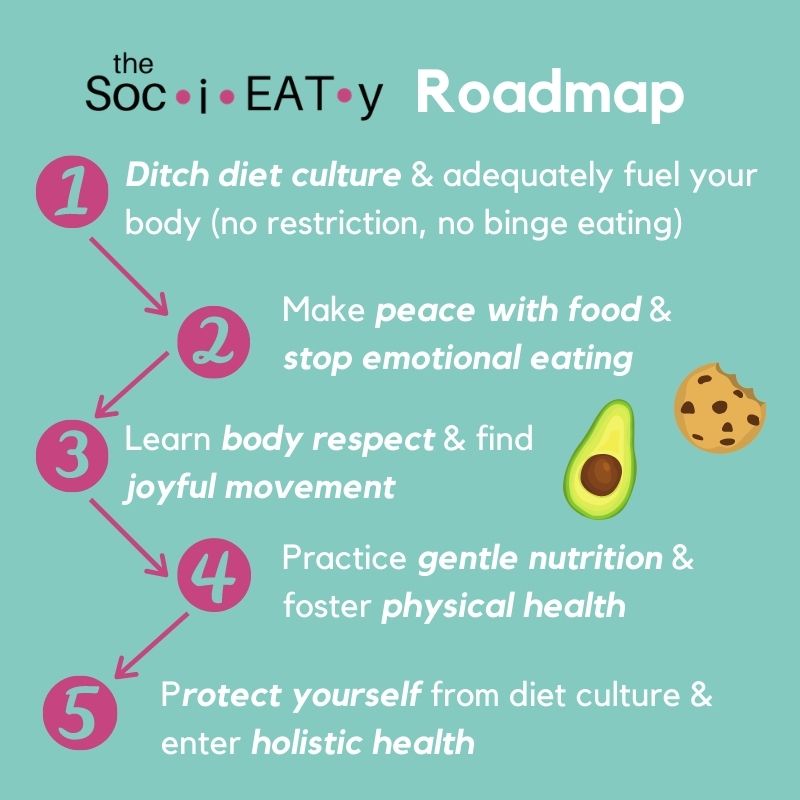 No more guess work!
The SociEATy makes learning intuitive eating easy. You get straight forward resources such as video lessons and workbooks that guide your journey.

You'll also get access to our private Facebook community (AKA the most supportive & real place for ex-dieters!)

You're not alone in this anymore. You can stop asking yourself "Why isn't this working!?" and start saying "I GET IT!"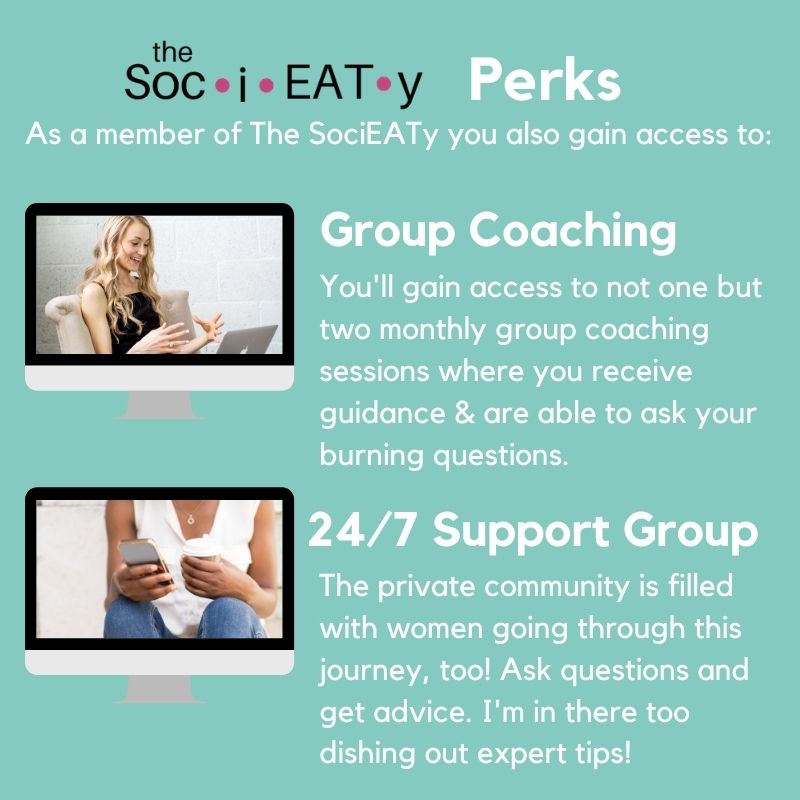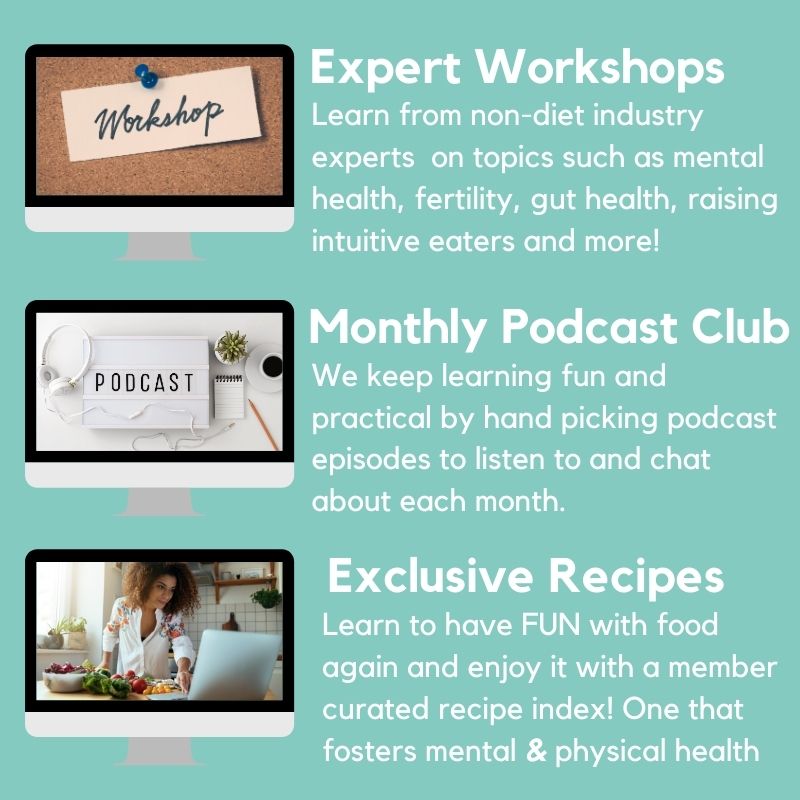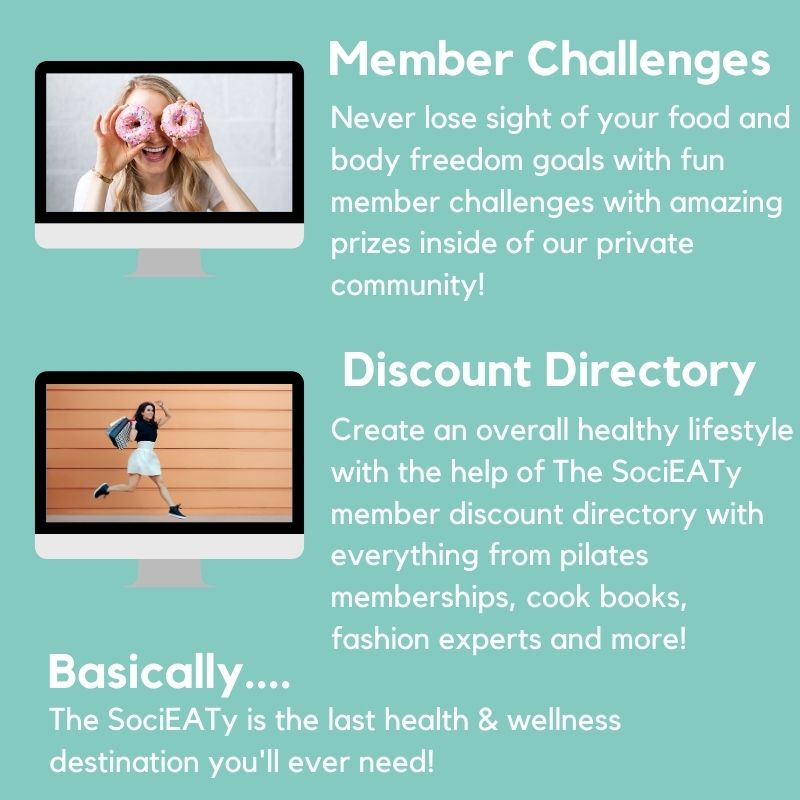 Who is The SociEATy For?
It's for you if....
You want to

become an intuitive eater

You want to

stop binge eating

You want to

end food restriction

You want to have a

healthy relationship with exercise

You're looking to live your

happiest & healthiest life
It's not for you if...
You are looking for a

fad diet or "quick fix"

You have an

active eating disorder and need 1:1 attention

You're unwilling to give up the pursuit of

intentional weight loss and dieting

You're not willing to make mistakes and

learn from them

You won't give up

calorie/macro/point counting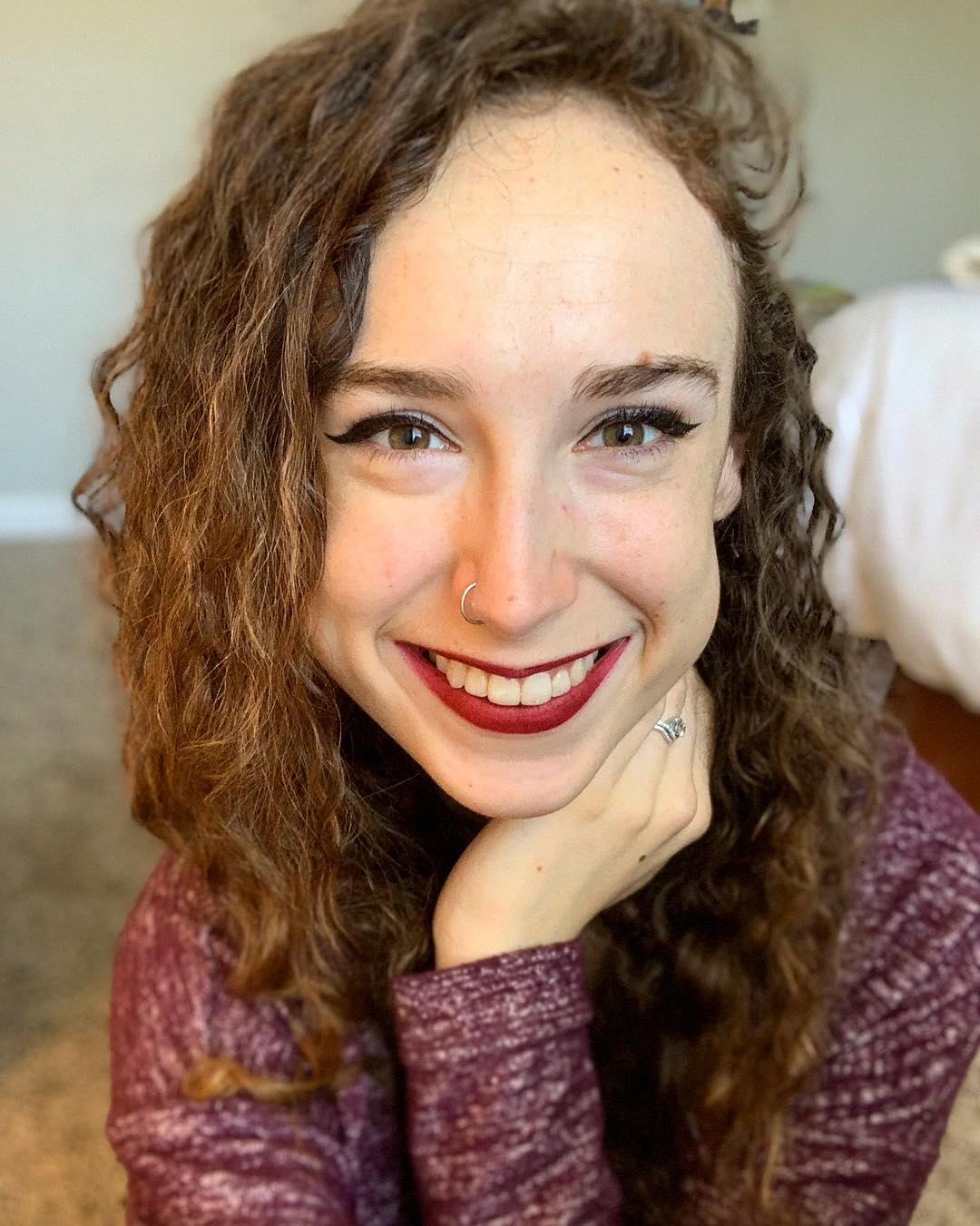 "I can't tell you how much you've changed my life for the better. [My husband], my parents, and my friends agree!"
- Bennie, proud Food Rule Breaker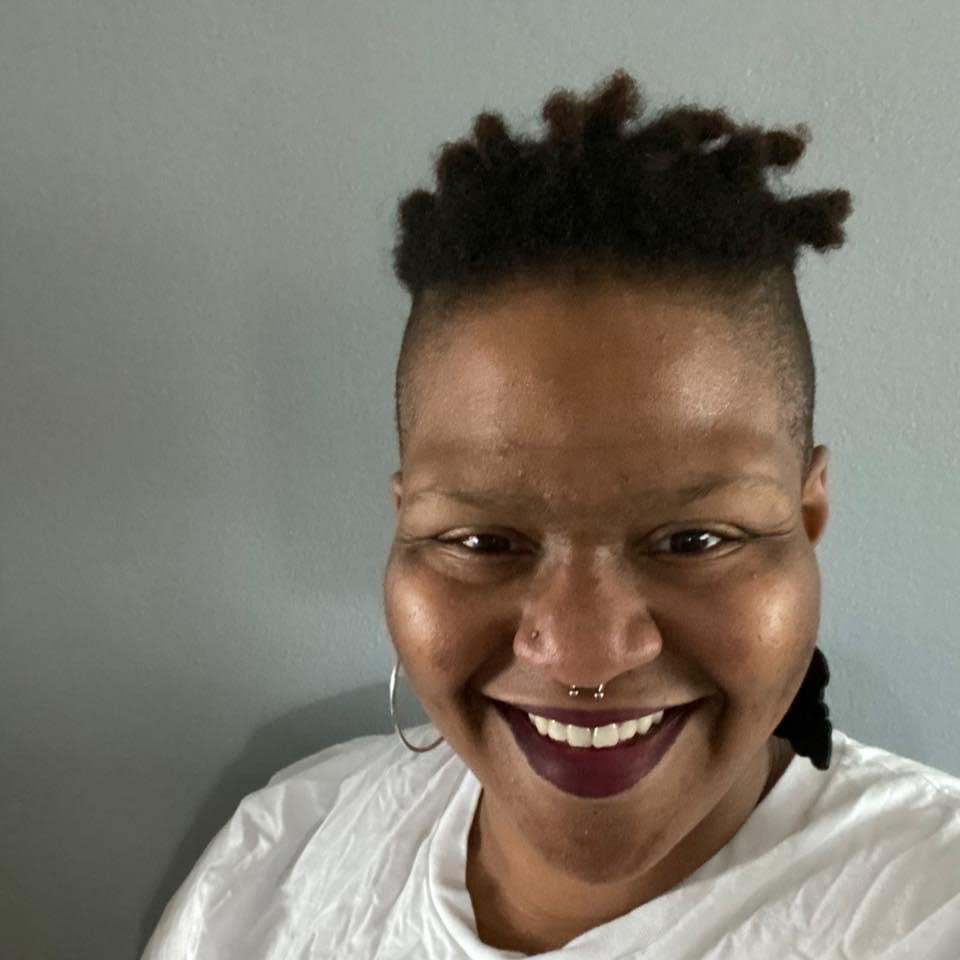 "This is wild, y'all. Trust the whole process. It. Will. Happen."
- Erin, Intuitive Eater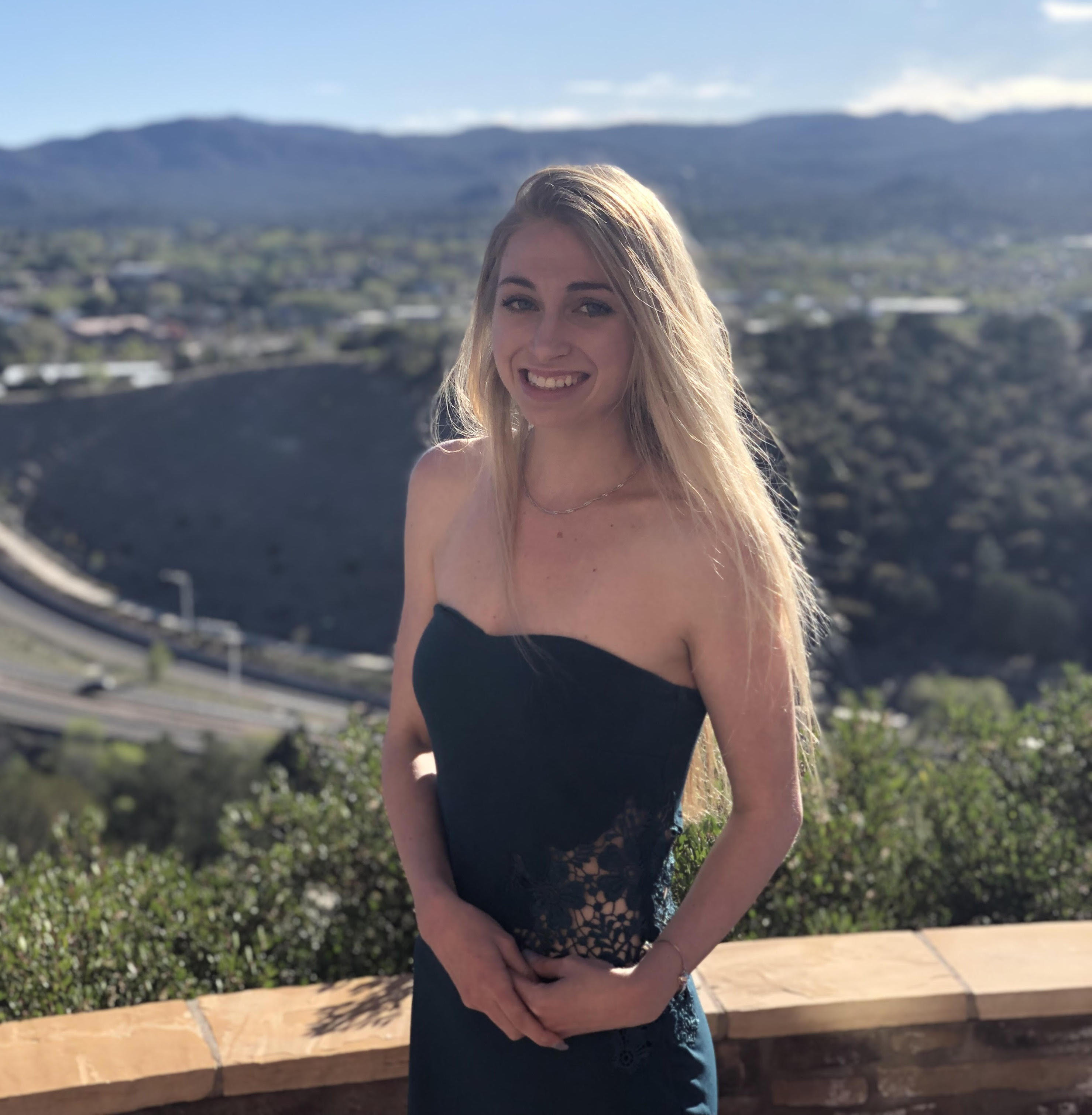 "THIS IS FOOD FREEDOM. I am forever thankful for the new life experiences I can share through food."
-Ally, No Food Rules success story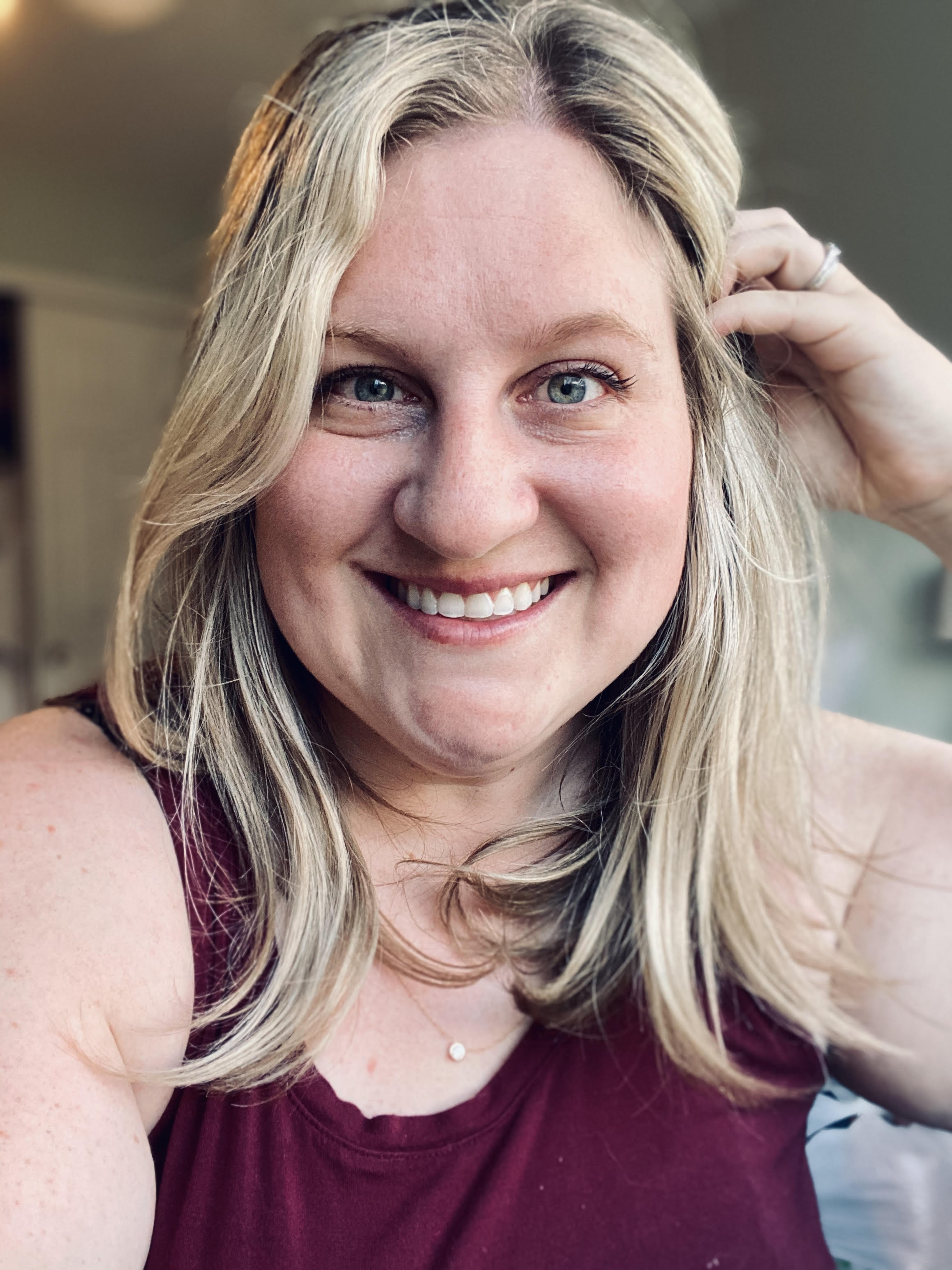 "Being a part of the SociEATy ... has been such a gift. Healthy, intuitive eating behaviors and self love will be the legacy I leave my daughters."
- Megan, SociEATy Member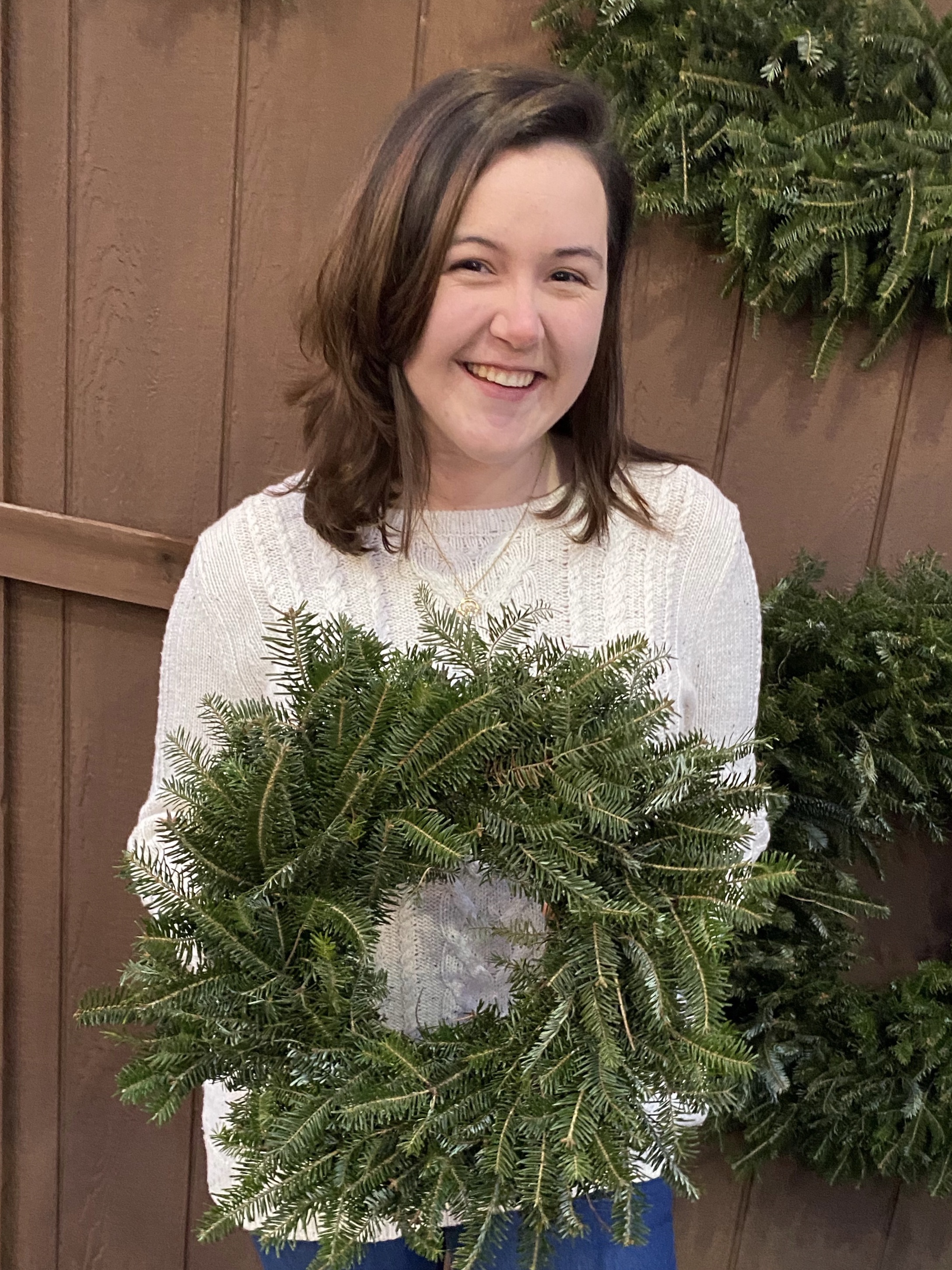 "Whether it be late night runs to get ice cream or a pancake breakfast with the girls, I am able to enjoy these experiences so much deeper since I'm letting go of food rules and being present in the moment....The SociEATy has been the best resource I've had to help me be open and honest and feel supported in overcoming my food rules!"
- Katy, Food Rule Breaker Extraordinare
Your Instructor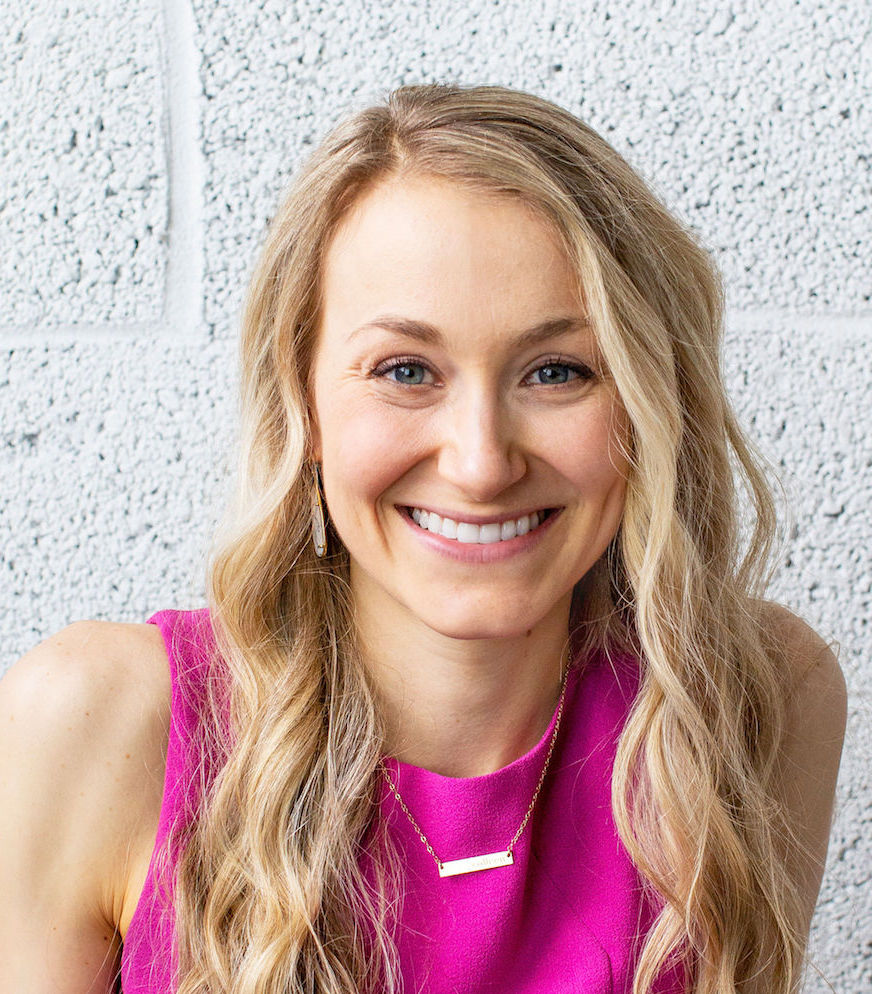 Hi! I'm so excited you're here. I struggled in my relationship with food for 6 years. I counted calories, counted macros, obsessed over when and what my next meal/snack would be, binge ate, heavily restricted foods I saw as "bad", over exercised and HATED my body! It took me 6 years to improve this relationship but I did it! Today, I eat the foods that I want, when I want, without guilt stress or anxiety. I am living life on MY terms, not my food rules, and it's fabulous!
I'm taking my 6 years of trial and error and boiling it down to WHAT WORKS. I don't want you to have to waste 6 years of your life like I did. I want you to start living the No Food Rules lifestyle faster! And I'm going to help you do just that!
I've been featured by Shape Magazine and PopSugar Fitness for the work I do to help motivate women to find this freedom that I've found. And? I can't wait to share that with YOU, too! Let's do it. Let's get you on your way to living a No Food Rules lifestyle too!!
Frequently Asked Questions
When does The SociEATy start?
Right now! When you become an SociEATy member you'll get access to the private Facebook group right away! You can start diving into the materials TODAY! No need to wait a second longer for food freedom!
Should I join for a month or a year?
I recommend joining for a year. Members spend this amount time on their journey and you'll also save some $$$!
What about cancelations and refunds?
You can cancel your membership at any time! If you are unsatisfied with your purchase, contact us in the first 15 days and we will give you a full refund. Refund request explaining the reason the membership did not work for you must be accompanied with electronic proof of the completed "My Why" worksheet and food rule exercise you'll receive during The Society new member initiation.
If I don't join now can I join later?
The doors to The SociEATy only open a few time a year. There is no enrollment when doors are closed. You can cancel your membership at any time, but you can not enroll at any time. Also, the current bonus package for yearly members (a bonus coaching call with colleen) is not guaranteed for the next enrollment period.
I feel like I've tried intuitive eating.. Will this work?
No food rules is an ENTIRELY different approach to intuitive eating than what you see on social media. I don't just tell you to eat a cupcake and move on. Nope. 🙅‍♀️Trust me, I did that and ended up just eating an entire box, going to bed, and doing the same thing the next day. I wasn't 'connecting the dots' or learning anything! 😬With my specific framework you learn how to connect those dots like it's a freakin' game of connect four. You re-wire your brain🧠, break food rules one by one (THIS IS SO KEY TO NOT JUST BINGE EATING!!!!!), and improve body image❤️. If you leave even just one of these out, you're right. Probs won't work. 🤷‍♀️Which why you learn how to do this in the SociEATy!
If I have no food rules, won't I just gain a ton of weight!?!?
We're weight neutral in The SociEATy. When you listen to your body your weight will fall where it feels best- mentally and physically (i.e. your set point weight!). Yes, if you come from a background of heavy restriction you may need to gain weight in order for your body to function optimally. But, if you come from the restrict-binge cycle and are continuously experiencing binge eating, weight loss may happen. For some? Their weight is simply maintained. Our bodies are DNA programmed to be a weight that they function optimally at. Yes, they don't want to be smaller but they also don't want to be BIGGER! Your body WON'T continue to gain weight past where it wants to be IF YOU ARE LISTENING. That last piece is key… remember the "social media way" of intuitive eating? Yeah… that's where the problems come in… you eat the foods without truly listening and reflecting!
I'm on a budget... How much is it?
GIIIIIIRL. I feel you. Budgeting is REAL. The SociEATy membership that shows you how to NEVER need to diet again and find your "happy weight" is $29 per month. This is a 90% price cut from working with a dietitian 1:1 …. for ONE CALL! And that's on the low end! PLUS? All yearly members get a bonus coaching call with Colleen to help them find freedom even faster! (valued at HUNDREDS of dollars!)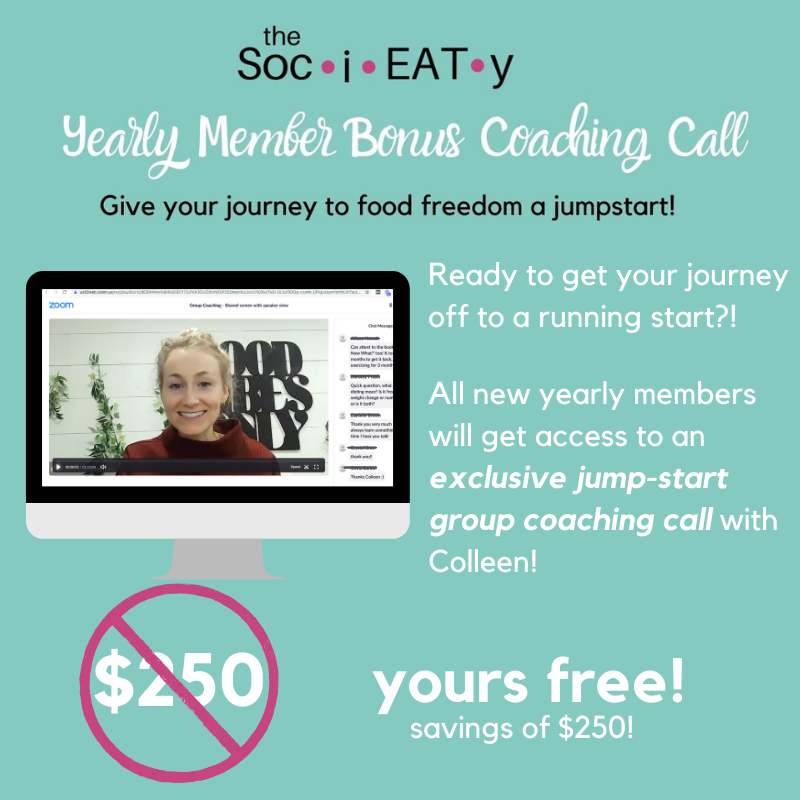 So... What now?
Choice #1
You can keep on living your life full of food rules, restrictions and binge eating where you never really experience the joy of going on date night and having the bigger half of the molten lava cake without guilt.
or....
Choice #2
You could START LIVING your dream life as a member of the SociEATy. You can eat that foods that you want, when you want, without guilt, stress or anxiety all while loving your body!
This course is closed for enrollment.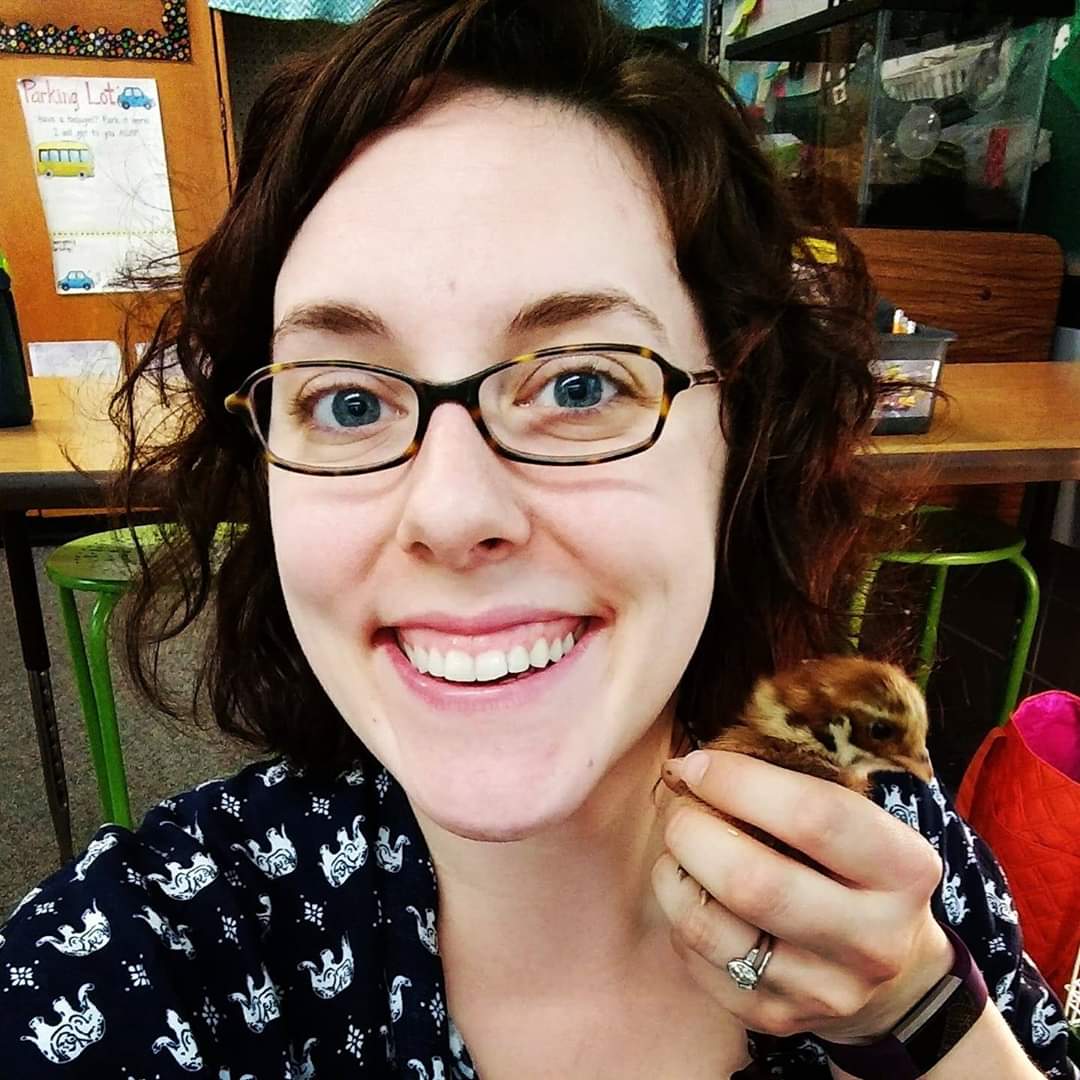 "I'm not binging anymore because I'm not starving. I can have A brownie instead of ALL of the brownies. Because I know there's more brownies whenever I want one. The best win is how I feel emotionally. I feel much more at peace. So thank you so much for that!!"
- Marla, Proud SociEATy Girlfriend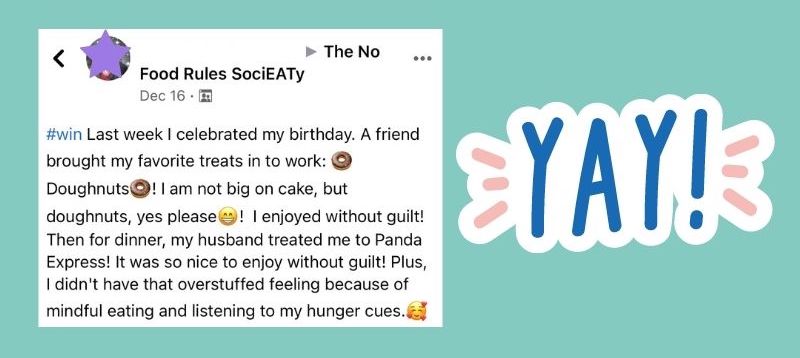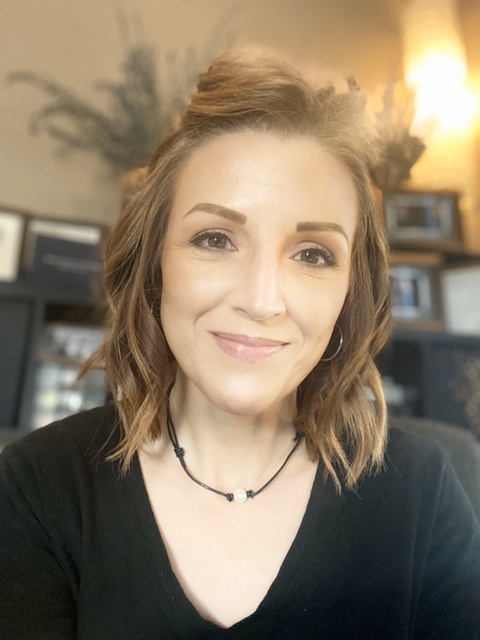 "This sociEATy has been such a comfort. So many women in one place that can relate to what I am going through has given me understanding that I am not alone. I am NEVER alone! I can post a question/problem and within a very short time, an answer (or 2 or 3 or 10) will show up and help get me through a rough patch. Colleen, YOU are amazing in your positivity and how well you communicate your compassion in trying to help all of us get out of the diet mindset trap. Thank you!!!!"
- Venessa, SociEATy Member
Never think "Am I doing this right?!" or "Why is this so hard?!" again, girlfriend. You've now got a SociEATy to keep you from second guessing and support you!!!